By: Gabi Forman 
Female seduction and power is as central to film as sound and color. Nothing can shake a man in his boots more than the shape of a woman-and no femme spell is complete without one necessary weapon: lingerie.   
Austin Powers: International Man of Mystery - Vanessa and the Fembots
The Fembots and the fluffy pink fantasy they imbue are just as iconic today as they were when they premiered 30 years ago in the hit film Austin Powers: International Man of Mystery. With a light purple-pink palette of fur trimmed babydoll negligees, long velvet gloves, and heeled slippers, the Fembot aesthetic screams bubblegum bitch with a twist of Lolita.
Since the hit film, the fluffy pink dream has taken on a life of its own, transpiring into other iconic fashion sequences such as Sex and The City.
 
Today-now that fur trimmed bustiers are truly back in vogue, the Fembot influence seems to be reclaiming more attention than ever.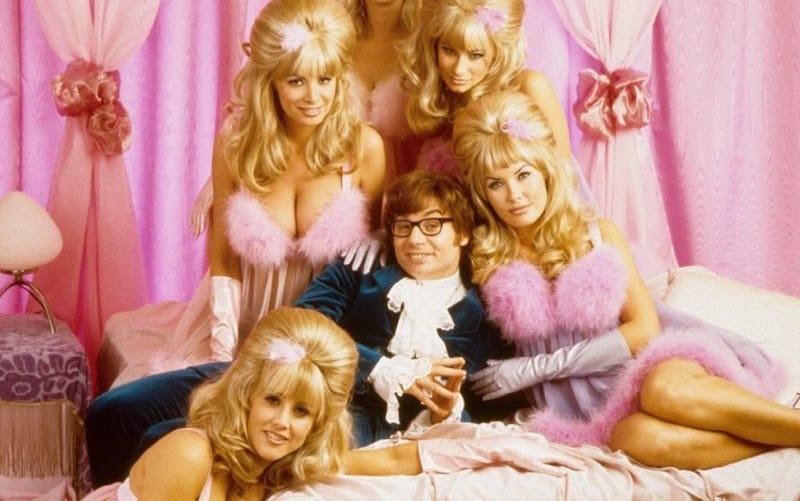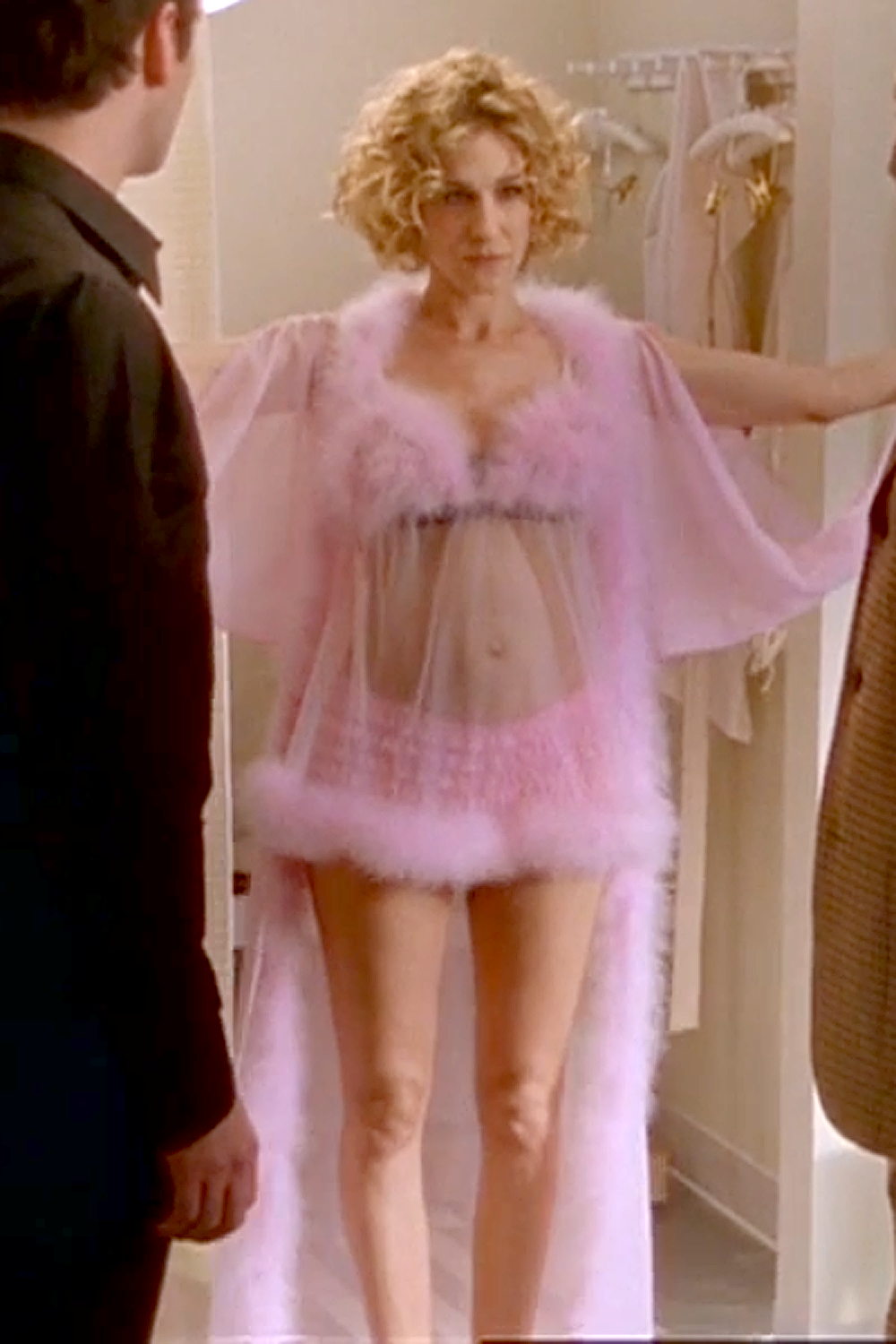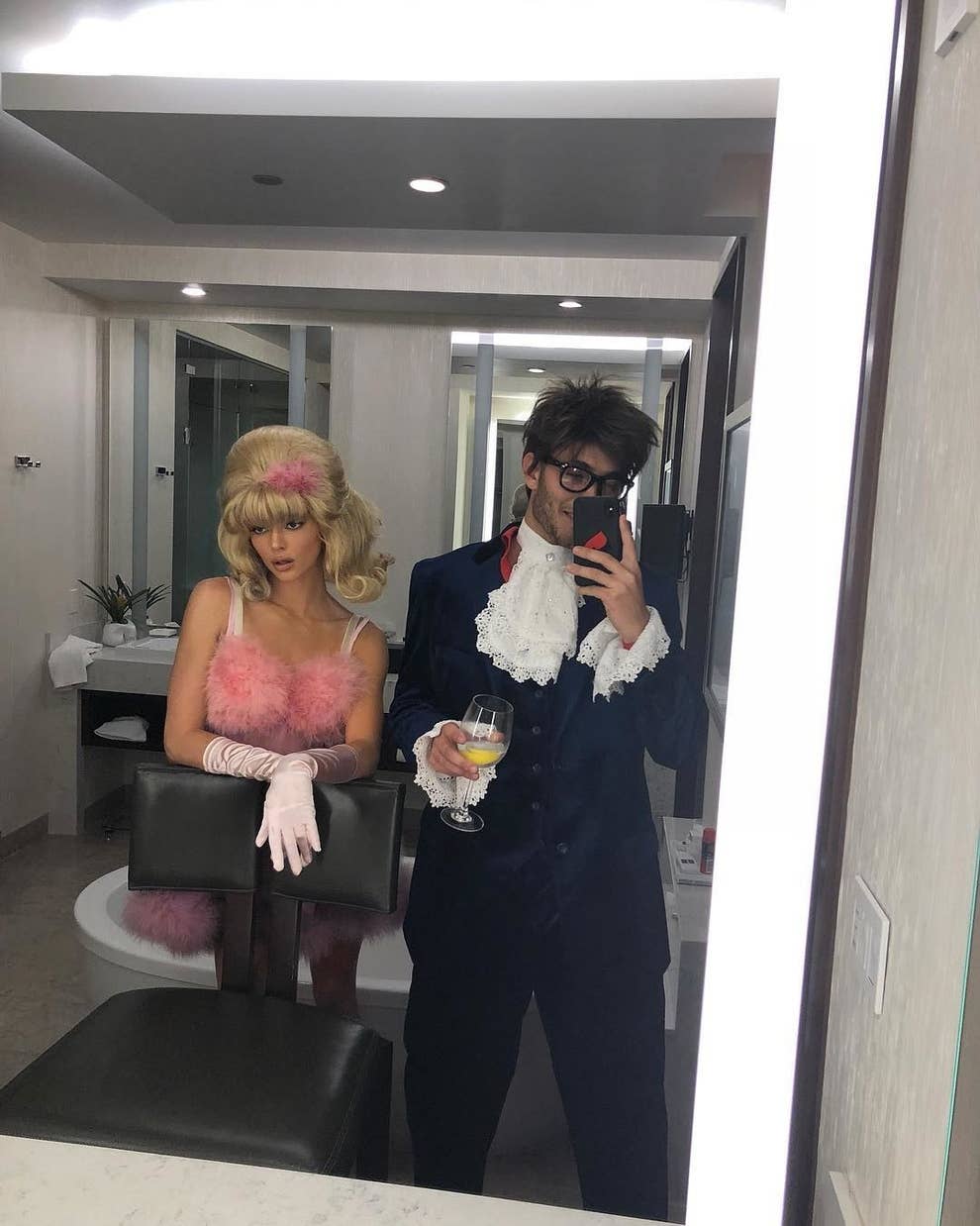 Austin Powers' Fembots, Carrie Bradshaw, Claudia Cardanale, and Kendall Jenner paying homage to feathery pink pom-pom negligees.
Then there's the
HBIC
Fembot - Vanessa Kensington (Elizabeth Hurley). Vannesa is perhaps the most lethal vixen of all the Fembots. Her ability to entrap Austin with just a glance proves how formidable an arsenal seduction is, making lingerie in film a form o
f cinematic artillery. 
Vanessa's black silk satin slip with
frastaglio
captivates Austin, "I've never felt better," she says as she crushes a champagne glass in her hand. It would become one of the films defining moments.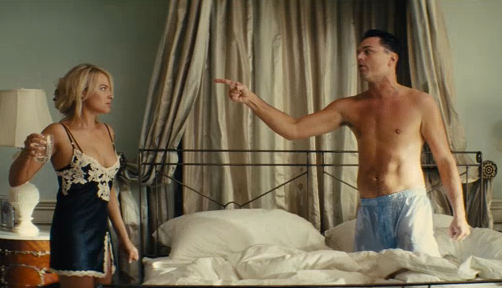 Top: Margot Robbie in The Wolf of Wall Street pays tribute to Kensington in an iconic lingerie-in-film moment.
Courtney Shayne in JawBreaker
It's Courtney Shayne in the 1999 film Jawbreaker that heralded a slew of ruthless yet undeniably iconic, mean girl archetypes. Her signature red lipstick and corset allude to a sort of plastic demon. There's a reason they call her "satan in heels". 
Regina George's reign of terror pales in comparison to Courtney's-she's Regina George on steroids; she's Lucy.
Central to every mean girl's arc is her ability to manipulate other females, pawning them, as a means to her schemes. In that sense, Courtney widens the scope of female seduction, proving that femme seduction is just as pernicious towards her clique of female barnacles as it towards her male victims. 

When Jawbreaker was released, it was nothing short of a commercial failure-but as 90s nostalgia became more of a pervasive influence in fashion-Jawbreaker gained newfound appreciation.
Maddy Perez in Euphoria

Euphoria's Maddy Perez (Alexa Demie) is a perfect blend of femme fatale and teenage angst. Her strut down the hallway of East Highland High School swallows the spotlight and parts a sea of well-blended admirers. 

A mix of girly streetwear, bright velour tracksuits, and don't-fuck-with-me sunglasses, Maddy is all at once our spirit animal and our worst nightmare.  


Maddy in Trashy's Halter Demitasse Underwire Bra

With a strong reverence for Sharon Stone in Casino, Maddy understand's that sex is power - that sex, if played right, is every woman's gambit.

Maddy is not as plastic as the 90s or aughts HBIC archetype; she's no less shiny but she's rougher around the edges. Throughout the series, her struggles add depth to her character, evoking an extra layer of pathos. With every episode, we are led further into Maddy's inner sanctum, and we realize - she's beautifully broken.
SPOILER ALERT: Everyone knows the famous scene where Maddy fakes her virginity to seduce Nate. To frame the vibe, Maddy looks like a sexed up Hello Kitty. Her white-lace ruffled demi cups with satin straps and a front bow look like something you'd find on Dolls Kill - innocent yet* kind of emo.
Kathryn Merteuil in Cruel Intentions
Kathryn Merteuil (Sarah Michelle Gellar) is a coquette, devious but alluring all at the same time. Enter prep-goth- a witch-like charisma fused with an aristocratic elegance. Her black and beige corset, paired with a Dolce and Gabbana pinstripe suit, blends perfectly with the villain's dark humor. 
Katherine casts the femme spell on Sebastian, and gets him fully on lock; my favorite line- "My God [Sebastian], you are completely pussy whipped."  
What makes Kathryn's character so riveting is her multidimensionality; she's a wolf in sheep's clothing. Underneath a well played prep school pretense is the real Kathryn - erotic and ruthlessly manipulative. Her lustful glances are almost hypnotic.
Kathryn's style is marked by a disdain for convention-and as a result a subversive edge. Perhaps most symbolic of Kathryn's duplicity is her stash of cocaine hidden in a crucifix she wears around her neck. 
Riffing off of the 1782 novel- Dangerous Liaisons, Cruel Intentions is all about mind games and machination, so when she strip-teases Sebastian, it's her way of saying -"checkmate". 
Kathryn's performance in Cruel Intentions helped breathe new life into the corset - transforming a once Edwardian symbol of female constraint into a literal harness of sexual power. 
Emma Frost in X Men
X-Men's Emma Frost (January Jones) has superpowers-she's telepathic and can shape shift. Yet, her most formidable power is perhaps, her sensuality. 
Ultimately, it's not her supernatural powers that lure Namor, Cyclops, and Tony Stark into her mantrap, but her seduction.
Emma perfectly illustrates what makes a femme so powerful - composure. It's a calm and cunning calculation that makes every femme almost venomous. The real femme doesn't flaunt her prowess, but instead, exudes it with subtle elegance. 
Emma Frost's white, swan-like lingerie perfectly complements her caliber of poise and power.
Elvira Hancock in Scarface
Elvira Hancock (Michell Phiffer) is the very epitome of tragic elegance. Shrouded in mystery, her delicate complexion almost scintillates through a hazy disco fever. Unlike Tony and Manny, who flaunt their chest hair and relish in the typical gangsta excess of clashing patterns and conspicuous clothing, Elvira has a certain flair that's so foreign and out of reach for Tony, that it tantalizes him. 

Elvira's seduction, in a sense, speaks to the lure and glamour of a greater 1980s Miami where the Cocaine Cowboys gave Studio 54 a run for its money.  Elvira's satin two piece set lauds the bygone era of cigarettes and silk, much more emblematic of the 50s than of the 80s.
Elvira's silk wardrobe brings a refreshing component of elegance into a flashy 80s moment, and continues to juxtapose the gangster paradise around her. Ultimately, Tony and Manny's idea of "pizzaz" is something Elvira "wouldn't be caught dead in".

Santanico Pandemonium in Dusk Till Dawn 
Santanico Pandemonium (Selma Hayek) alludes to a hellish sex siren. Surrounded by fire, her character is hypnotic, sending every man in the room into an immediate trance. 

I see an obvious nod to the OG seductress - Queen Cleopatra - with a similar brown and green color scheme and gold jewelry. Just like Cleopatra, Santanico is fantastically irrational.  
Quite literally a jaw dropping scene.

A siren requires a certain mix of exotic beauty, volumption, and a theatrical lure-making Hayek perfect for the role. In complete sync with her pet python, Santiaco taps into the male unconscious, bending them to her command.

Santanico evokes a sense of fantasy as well as an element of fear in a pack of slavering men. "You'll be my slave. You'll live for me. You'll eat bugs because I ordered it.. and at my command you'll lick the dog shit from my boot heel." 

When Santanico slithers down the runway, all sense of male reason is stripped.
Blair Waldorf in Gossip Girl
Blair Waldorf in a red Natori Slip: Season 4, Episode 9: "Witches of Bushwick".
When the cult classic, Gossip Girl, first aired in 2007, Blair Waldorf (Leighton Meester) became every woman's teenage dream.
Upper East Siders are a svelte breed of seducers. Like Kathryn, Blair Waldorf is witty and collegiate, yet her flair much more Audrey-esque - more pearls, headbands, and the sort of overwhelming floral bombast reminiscent of Rodarte and 1960s Dior. Blair is also much more neurotic. While Kathryn moves stealthily like a snake Blair is the opposite - almost to the point of garrulous. 
Blair understands the importance of "divine feminism," and her wardrobe reflects it's "divine" ingredients - grace and poise -  "I am Grace Kelly - Grace Kelly is me." She tells herself in a ritualistic morning affirmation. In that sense, Blair's wardrobe is unapologetically regal. One of her largest trademarks is her manifestation of her power through couture. 
Season 1, Episode 2, "The Wild Brunch".
Yet while Blair's style is more prim and than libertine, she's no less conniving. The scenes of Blair in lingerie help illustrate that underneath her floral drapes and pearly whites, Blair, like all femme fatales is a Machiavellian medusa in disguise.
Season 2 Episode 19, 'The Grandfather', Blair knows the power of a good pout.
Alissa Barrow in Get Hard 
Ok, so Alissa (Alison Brie) is nothing to emulate, but let's be honest, her 30 second segment on top of Will Ferrell and their giant grid of floor plans is iconic. 
Top: Check out this legendary comedic scene here.
Bottom: Agent Provocateur Petunia Corset
Alissa's a Becky. She's the ultimate Stepford Wife and the ultimate gold digger. A lot like Helen in the comedy film Bridesmaids, Alissa is annoyingly polished, wide eyed, and giggly. She revels in being a trophy, but only one that's fit for a king. "These are the King's titties' she tells James King (Will Ferrell) (No pun intended there). 
Contrary to the fem(inist) fatale - Alissa relishes in being vacuous arm candy. She's shiny on the outside but hollow on the inside. 
The Becky is certainly the most repugnant of all female fatales, but sadly, the most realistic.  
Ginger Knowles in Swordfish
Enter Ginger Knowles (Halle Berry), the password to her heart - Swordfish. She's a Bond Girl-esque female vigilante, who enters the film decked in a red two piece set, giant silver hoops and a red Twizzler in her mouth. Ginger is a sexed up red flag - with a perfect blend of swank and badassery. Understandably, Stanley Jobson (Hugh Jackman)'s impression of Ginger is trouble. And he's right, Ginger is serious trouble. 
She's a DEA undercover agent - who uses seduction to fish out information. Every con-man and swindler fears a femme with a wire. After all, what better probing tool is there than the femme fatale? With her wit and sensual adornment, she'll gull you into telling her all your deepest secrets and then bleed you dry. 

Every heist film needs an element of sex appeal, like every Bond movie needs a Bond Girl, making Ginger Swordfish's intended window dressing. Yet ironically, Ginger's character would become the film's most appraised character, not to mention, it saved the film from total critic obliteration.